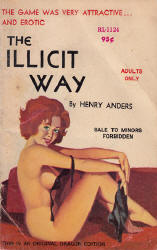 Regal Line RL-1124
Regal Novel RN1133 Dragon Edition DE163
I have been able to find a couple "Regal Line Novels" for sale around the internet. While I don't really know how or why they chose the name "Regal Line," the numbers seem to integrate seamlessly with a dozen or so books that call themselves "Regal Novels," only with a "RL" prefix instead of a "RN."
Brian Maginnity, from Lima, Ohio, noticed that on book RL-1124, the writing at the bottom of the front cover states: "This is an Original Dragon Edition." Hmmm, very strange. There is another label that calls itself that name and states exactly the same thing on the cover of every book, though those books have a decidedly different numbering system.
However, when you put books from those three labels together, it is obvious that they're probably all from the same publisher. Not only is the cover art similar, but everything else is the same, as well. Same font, same number and price relationship, and the same use of BOTH phrases: "ADULTS ONLY" and "SALE TO MINORS FORBIDDEN," once again in the same all-caps font.
In my opinion, the editors made a mistake when they printed the wrapper, thinking it was a Dragon Edition book, then stamped or printed the book number on later, correctly identifying it as a "Regal Line" book. I bought and studied the volume. The title page identifies it only as a "Regal Line Novel."